Balsamic-glazed new potatoes with chorizo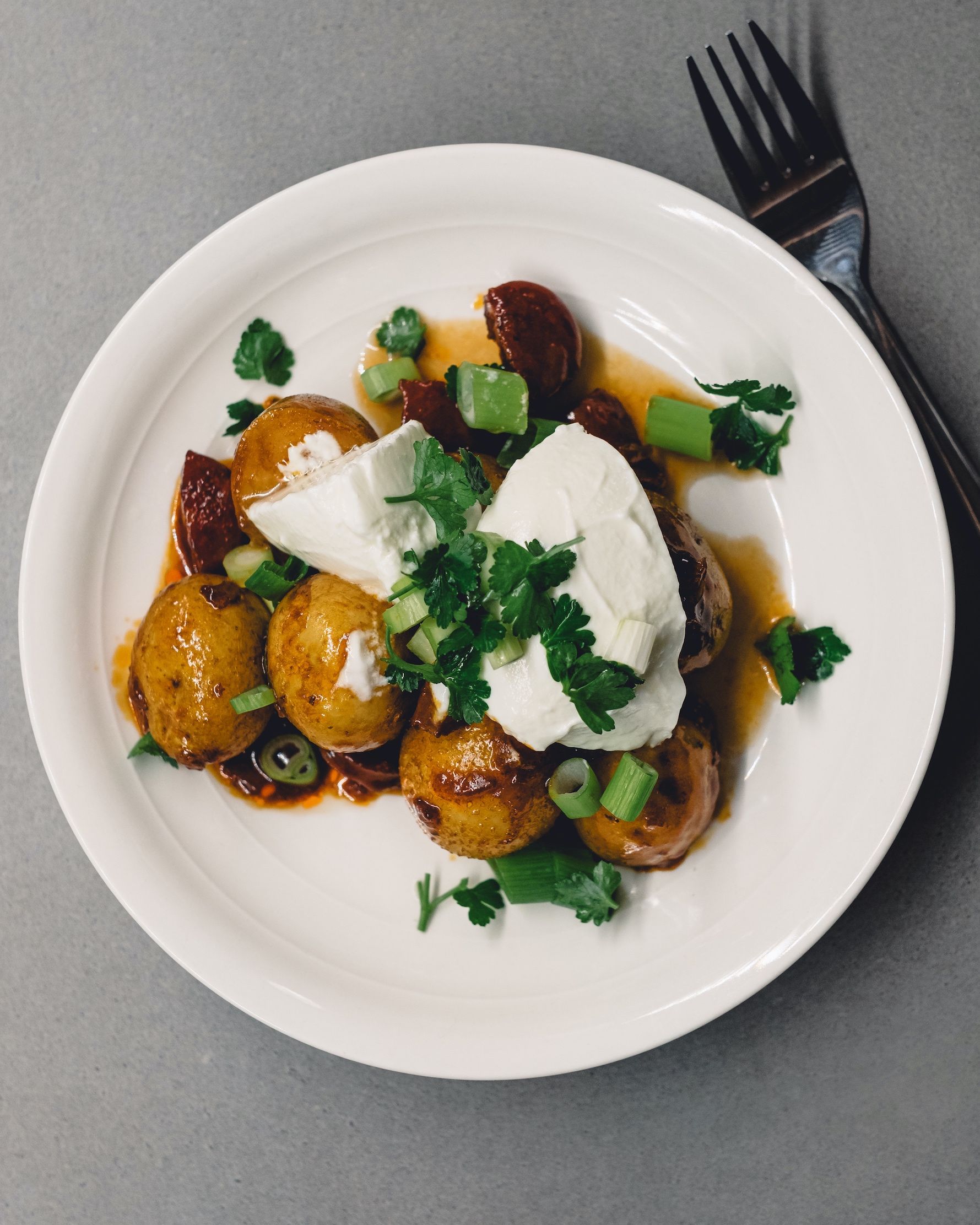 This year, the summer felt like summer. But on the first of September, autumn began within 24 hours. By the 25th, it was already raining most of the time.
As I'm typing this, sitting in a cafe in the middle of October, ⁠the fall foliage in Holland is beautiful. But save for a short stint of warmer temperature, this year we didn't have a proper Indian summer.
So, good news: brisk air, pumpkin spice everything, all the excuses for scented candles and baking experiments you can ask for.  Bad news: It's cold and wet.⁠
And when it's cold and wet, you need comfort food.
This is, for me, the ultimate fall dish. It has potatoes to keep you satisfied, it has chorizo and its spiciness to keep you warm, it has balsamic vinegar to surprise you, and it's swift to whip up on a weekday. The recipe is originally from The Food Gays. I tweaked the quantities quite a bit.
Balsamic-glazed new potatoes with chorizo recipe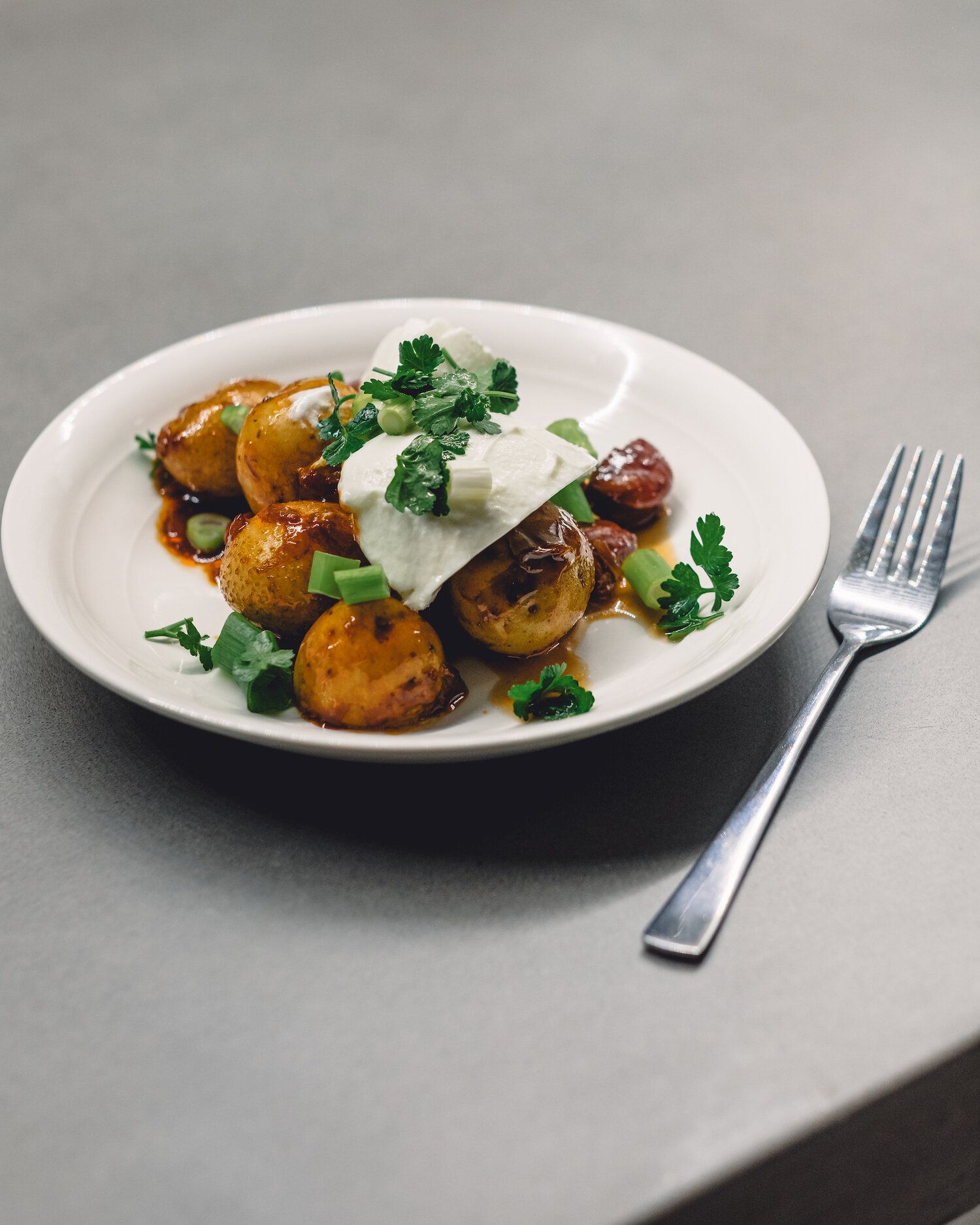 Ingredients:
Cooking oil
500g waxy potatoes
1 large onion
2 garlic cloves
200g chorizo sausage
1-2 cups low-sodium vegetable stock
balsamic vinegar
1 spring onion or a bunch of chives, diced
a handful of parsley leaves
sour cream
Chop your onion, potatoes, and chorizo. I usually use new potatoes - in The Netherlands, you can find them locally grown, all-year-round.  Make sure your chorizo slices and your potatoes are similar in size. That will make the final dish so much more fun!
Heat up the oil in a braising pan. (You can use any oil you like: I will even use olive oil if I feel extra, but sunflower, rapeseed, or rice oil are pretty interchangeable and neutral in flavor).
Add chopped onion and fry for a couple of minutes until translucent, then add garlic, and, in a minute or two, chopped chorizo.
When the oil is flavored and turned deep red due to the paprika in the sausage, turn up the heat and add your potatoes, stirring vigorously.
Add your stock. The goal is to have everything submerged in it. Bring to a boil, turn down the heat to low and simmer, covered, for 15 minutes.
Remove the lid. By this time, the liquid should be significantly reduced. Simmer for a couple minutes more, uncovered, so it thickens a bit.
Add balsamic vinegar in two large swirls and stir. Deglazing time! The vinegar will help part the browned bits from the bottom of it. They will add a lot of flavors back to the dish, and the vinegar itself will give freshness to a pan of predominantly earthy flavors. If there are more browned bits stuck to the pan, it doesn't hurt adding a splash more of the vinegar, just make sure you don't make your dish too sour!
Heat through and stir to glaze the potatoes in the gravy.
Serve with sour cream, spring onions or chives, and parsley.