Cardamom shortbread cookies with ruby chocolate and pistachio
Ruby chocolate has been the talk of the foodie town for a while. Here, I paired it with cardamom to enhance its flavor, shortbread, so I can dip it in tea, and coarsely chopped pistachios to balance it all out!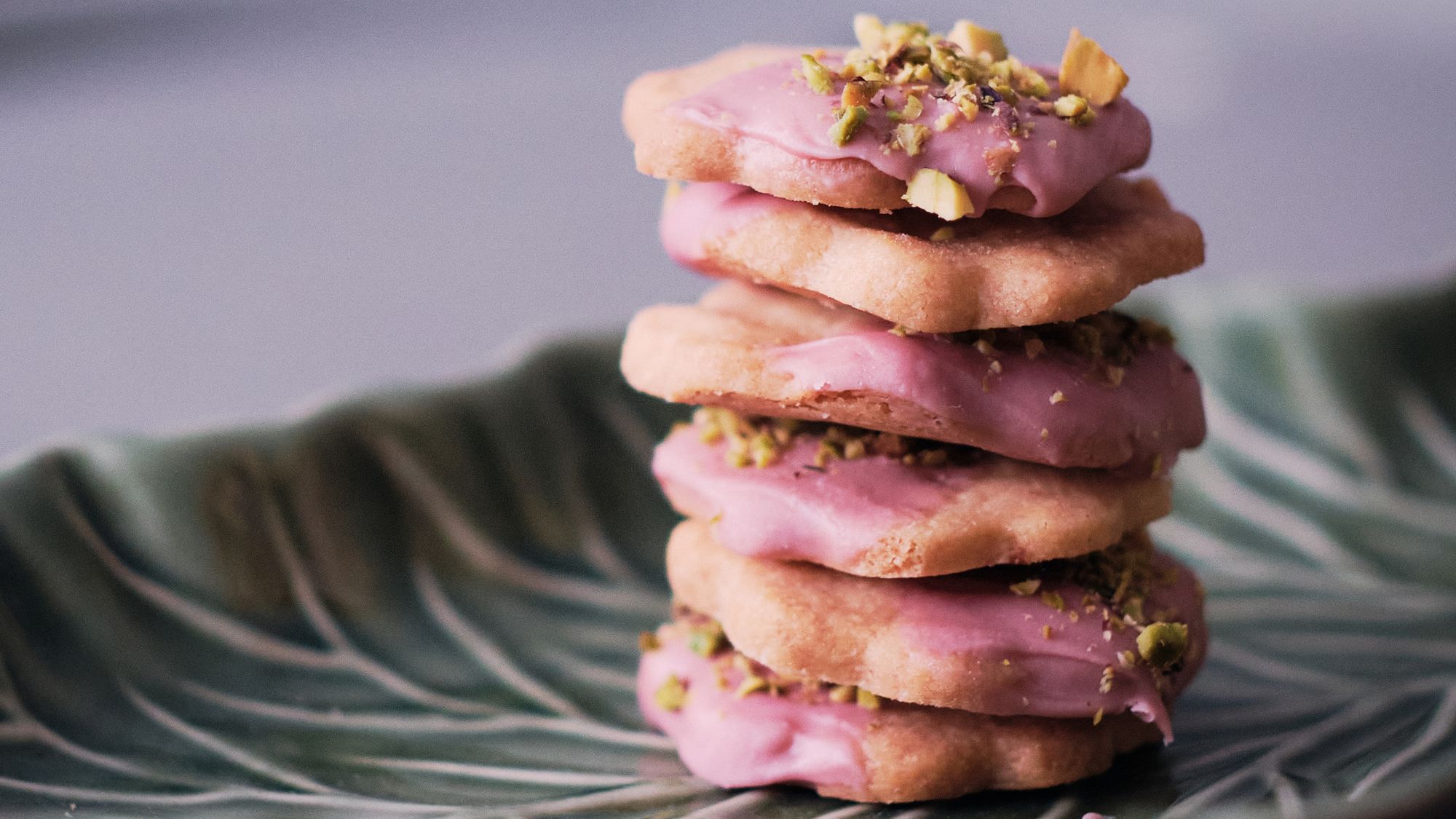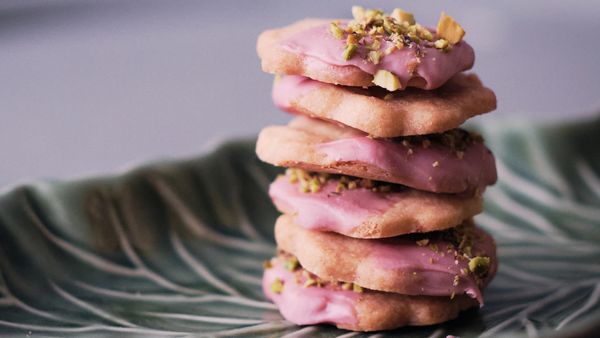 Ruby chocolate has been the talk of the foodie town for a while. Introduced in 2017 by Callebaut, it tastes, well, like a cross between chocolate, white chocolate, and berries. The producer deems it the long-awaited fourth variety of chocolate (next to dark, milk, and white). While some disagree, the fact is that ruby chocolate does introduce both new processing and a unique flavor.
Ruby chocolate is light, smooth, and fruity. Hence, it pairs well will flavors that are too delicate to combine with dark or even milk chocolate. You can use it where you'd typically use white chocolate, and where you need some fruity acidity and gorgeous color.
In confectionery, it's still not as common. But if you're over ruby KitKats (and I sure am), you can probably get your hands on ruby chocolate and play with it yourself!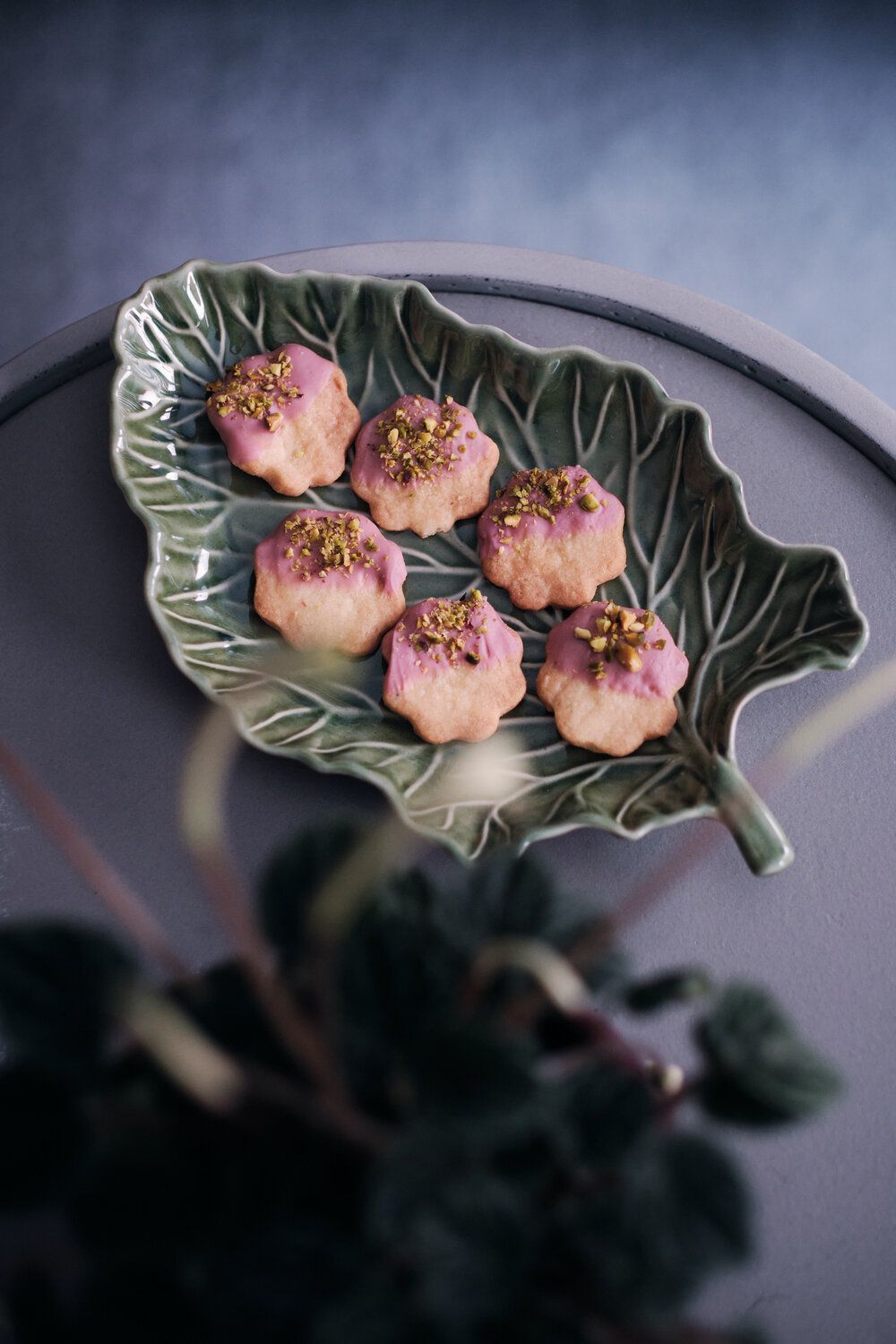 Ruby chocolate chips are still not marketed to retailers. But some wholesalers make it super easy to order stuff from them even on a smaller scale. Long story short, if you're in the Netherlands and need some ruby chocolate chips in your life, check out De Notenshop!
Now, about the cookies. Winter and cardamom go well together. Cardamom and pistachios are also a great combo! And what else gets along with winter? Shortbread. Especially if you're like me and, for you, wintertime's all about scented candles and copious amounts of tea. Ruby chocolate complements the cookies giving them a smooth, fruity finish that emphasizes the flavor of cardamom instead of stifling it.
Ruby chocolate cardamom shortbread with pistachios: the recipe

Ingredients:
For the cookies
250g butter
250g flour
1/2 cup granulated sugar
1 teaspoon good quality vanilla extract
10 cardamom pods
For dipping
about 1 cup ruby chocolate chips
50g butter
about 50g pistachios, coarsely chopped
Cardamom tip! I'm probably late to the party, but cardamom was my big discovery this winter. The trick is to get it in pods! I used to buy it preground, but it lost the flavor way too quickly, leaving only a weird, gritty texture.
Break cardamom pods and extract the seeds from them, then grind the seeds. If you don't have a mortar and pestle, no worries: you can break the pods by hand (or using a meat pounder) and grind the seeds in a food processor or a blender!
Beat the butter, cardamom powder, and sugar until light and fluffy.
Still beating, add the vanilla extract and flour and beat until thoroughly combined.
Chill the dough for up to an hour, then roll it on a lightly floured surface.  Use a cookie cutter of your choice to cut individual biscuits. The batter can be as thick as you want it, but make sure that the cookies that will bake together are similarly thick! If your cookies are getting too soft, at this stage, you can briefly put them in the fridge.
Bake the cookies in a pre-heated oven at 175° Celsius, on a parchment-lined pan, for 25-30 minutes or until lightly golden. Remove from the oven and let them cool completely, transferring to a wire rack when they're cooled enough to handle.
For dipping, melt chocolate chips and butter in a microwave or a double boiler. You can tweak the amount of butter - but note that the amount of fat will impact the color of your dip. Plunge your cookies in, and sprinkle them with pistachios before the dip solidifies.
Have you baked with ruby chocolate? Don't hesitate to brag about it in the comment section!